Colin StetsonNew History Warfare,Volume 1 Remixes
---
To coincide with his highly acclaimed release on Constellation records, Aagoo proudly presents "New History Warfare Vol. 1. 12" (Remixes).
---
Colin Stetson was born and raised in Ann Arbor, MI, where he began to carve out his singular musical voice that channels John Coltrane's sheets of sounds, as well as the post-modern beauty and angst of Sonic Youth and The Pixies.
Using assorted saxophones, clarinet, flute and French horn, Stetson has played and recorded with some of today's hottest and most revered musicians and bands, like Arcade Fire, Tom Waits, TV On The Radio, Antibalas, Anthony Braxton, Medeski, Martin and Wood and Burning Spear.
Studying with the likes of Roscoe Mitchell, Donald Sinta, Steve Adams and Henry Threadgill, Stetson earned a music degree from the University of Michigan in 1997. More importantly, extensive gigging with his band Transmission around Ann Arbor and Detroit earned him a reputation for being an exemplary improviser, composer and circular breather.
Never one to cage himself into categories, Stetson joined forces with progressive jazz-rockers Larval, as well as DJ Recloose, which eventually led to Stetson's appearance on the acclaimed Cardiology recording.
Along with the rest of Transmission, Stetson moved to San Francisco in 1998, befriending, playing and recording with the likes of Fred Frith, Kenny Wollesen, Beulah and the late Matthew Sperry.
Stetson and his Transmission brothers anchored a musical community that garnered high praise in the Bay Area. While it is true to say that Stetson makes an impression whenever he plays, his ability to become the music comes through best when he is the leader of a band, or a one-man show. Since relocating to New York City in 2004, Stetson has been able to balance high-exposure gigs with innovative solo performances
in front of captivated audiences. According to the Village Voice, "Stetson's solo work ranges from fireside warm Hungarian folk tunes to bass squonking that jack hammers the mind."
In 2002, Stetson recorded a solo, limited edition 3-inch CD release of a performance at the Artship in Oakland, and his full-length debut as a leader came in the summer of 2003 with the quintet recording Slow Descent.
Approaching songs as narratives, a trick he learned from Waits, adds an emotional dynamic to Stetson's playing that exceeds listeners' expectations as to what sounds can issue forth from any of the instruments Stetson puts to his lips.
---
Formats : LP/mp3
Catalog Number CD : AGO031
Catalog Number LP : AGO039
Barcode : No
Release Date : February 22 2011
Tracklisting
1. And It Fought To Escape
2. And It Fought To Escape – Lessons Remix
3. Time is Advancing with Fitful Irregularity
4. Time is Advancing with Fitful Irregularity (White Pulse Mix) – Tim Hecker
---
---
LP : $12.00 + Shipping costs
Immediate Download : $1.99
iTunes : $2.97
Not eligible for UK or EU shipping.
---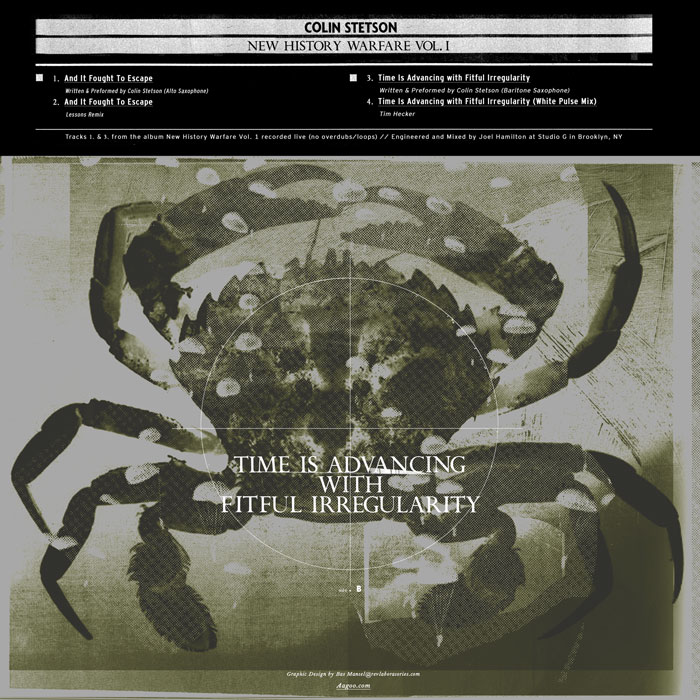 ---
---