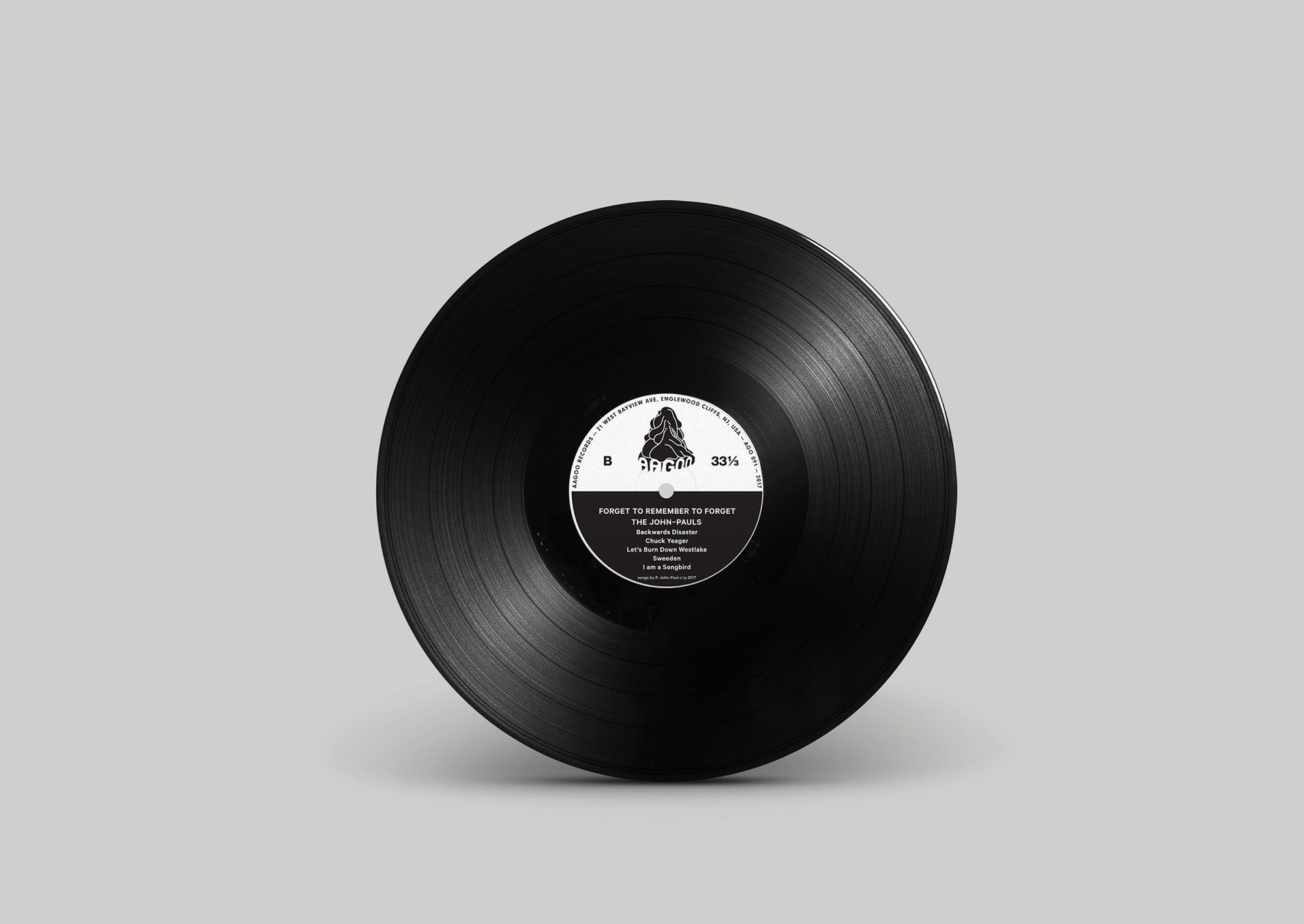 The John-PaulsForget to Remember to Forget
---
The John-Pauls are a four piece band from Austin, Texas, playing post-punk with a new verve.
Vocals are shared by Phillip John-Paul, a flat but charismatic singer, and Mikila John-Paul, whose voice is vulnerable and fascinating.
The John-Pauls' music matches a jagged and hypnotic sonic sensibility to witty, emotional, and often hilarious lyrics about life as a middle aged misfit. They continue the tradition of indie-rock that raised them: Violent Femmes, the Fall, REM, Wu Tang, the Velvet Underground, The Smiths, The Feelies, et al.
The John-Pauls (Phillip, Mikila, Mark, & Elizabeth John-Paul) make deceptively simple music. Often a single voice, male or female, is backed by two guitars, drums, sometimes piano, handclaps, or wineglasses filled with water. Phillip's voice is flat but determined, expressive, and oddly compelling, a la Mark E Smith. Mikila, his foil, sings like a coal miners' nightingale. Mark redefines guitar playing, treating his Tele Deluxe almost like a lead bass. Elizabeth is one of the most precise and creative drummers in a city full of them, Austin, Texas. As a band they condense the infinite choogle of Neu or Canned Heat into succinct trash-pop gems.
Their 10-song debut album Forget to Remember to Forgetwas recorded by wunderkind Matt Gerhard, engineer at Jim Eno's Public Hi-Fi Studio and a veteran of many Spoon recordings. Gerhard recorded the band live in a South Austin home above a creek, one week during a wet Texas autumn.
The songs, by Phillip John-Paul, owe equally to Lou Reedand Jay-Z. His lyrics articulate a particular Gen-X desperation, poetry weened on Morrissey and Wu Tang. Irony, jokes, and puns are mined for deep emotion. Domestic descriptions are peeled back to reveal a deep grappling with the nature of love, time, and the limits of language. Some nuggets:
"Oh Shit!' replaces all thought — fills an old home with an empty lot." — Oh Shit!
"If you can read my mind, answer with a nod." — Francoise Sagan

"People sigh. It's only breathing. But what we hear we got to give meaning." — House-Husband Stomp
« You are the thought behind the thought behind the memory of a glance that one that smells like grabbing ass at the eighth-grade dance. » — I am a Songbird
"Don't those clouds look like boobs?" — Free Chains
---
Formats : CD/LP/Mp3
Catalog Number : AGO091
Barcode CD : 025093829208
Barcode LP : 025093829192
Release Date : May 5 2017
Tracklisting
1. Free Chains
2. Françoise Sagan
3. The House-Husband Stomp
4. Now Won
5. Oh Shit!
6. Backwards Disaster
7. Chuck Yeager
8. Let's Burn Down Westlake
9. Sweeden
10. I am a Songbird
---
---
CD : $10.00 + Shipping Costs
LP : $12.00 + Shipping Costs
Immediate Download : $6.99
A
EU and UK orders ship from Italy.
---
---