---
It took me exactly six months from the day of its release to begin writing about AU's self-titled "debut" album. Despite the crippling procrastination that plagues most Tiny Mix Tapes reviewers (okay, just me, but I am not averse to dragging my superior wordsmiths into my wading pool of incompetence), I am genuinely surprised at my lack of motivation and overall laxness in penning this one. It's not like the album hasn't gaily danced its way into my pleasure center and taken up residence in my hypothalamus during the past few months or anything!
AU ("ay-yoo") is primarily Luke Wyland, a musically promiscuous Portlander who in 2005 released Peaofthesea under the simple handle "luc". Some of AU will appeal tremendously to those longing for Sung Tongs-era Animal Collective.
Opening track "Boute", in particular, recalls that same exciting positive folk feel that Messrs. Tare and Bear practice when the mood strikes them. "Sum" is just as thrilling; after an intro of tinkles and strums, the song starts in earnest around 0:43 with a mix of banjo, Zoë Wright's dreamy vocals, and then a full muddled arsenal of rattles and clangs as it quickly builds a sound drift of intoxicating proportions.
"Shelter" is a quiet dazzler that thrashes together two important sections of Wyland's creative CV: his childhood classical piano education and his avant-garde work. It is a lovely piece of vocal-splicing and piano- and sleighbell-abetted drone that runs a course without any real end goal.
In fact, it doesn't really go anywhere at all, but it feels wonderful getting there. Elsewhere, without hinging on any major sensational events, AU reveals itself slowly, subtly, and satisfyingly.
"Death", which features vocal help from A Weather's Sarah Winchester that actually sounds like creeping death, starts a dark troika from cleanup to sixth in AU's batting order.
After this bout of introspection comes the meditative exercise "Life" and "Ask the River", closing the album with a discharge of freshly-plucked notes.
---
AU (pronounced "Ay-you") is the work of multi-instrumentalist Luke Wyland with Dana Valatka on drums and Holland Andrews on vox and clarinet.
Begun while Luke was finishing up his art degree in 2005, they've since been touring the US and Europe extensively. Their live show is wild and heavily rhythmic, bouncing between extremes of cacophony and minimalistic restraint.
Here's one of the more hilarious descriptions from a fan after a show – "It's like Radiohead and Coldplay had sex and had a kid that had a 3-some with a synthesizer and a drumset and had a kid hat got high on acid and dope while listening to Pink Floyd's Dark Side of the Moon during a laser light show."
Not sure if the band agrees (especially about the Coldplay reference) but certainly leads the mind somewhere…
---
Formats : CD/mp3
Catalog Number : AGO005
Barcode : 634479506109
Release Date : July 5 2007
Tracklisting
1. Boute
2. Sum
3. Shelter
4. Death
5. Remain
6. Honeybee
7. Life
8. Ask The River
---
---
CD : $10.00 + Shipping costs
Immediate Download : $6.99
iTunes : $7.92
Not eligible for UK or EU shipping.
---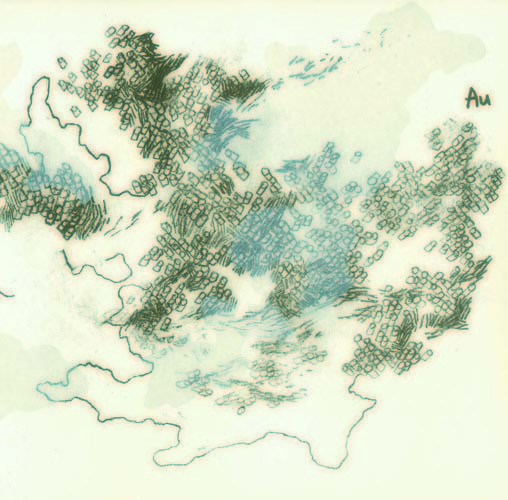 ---
---